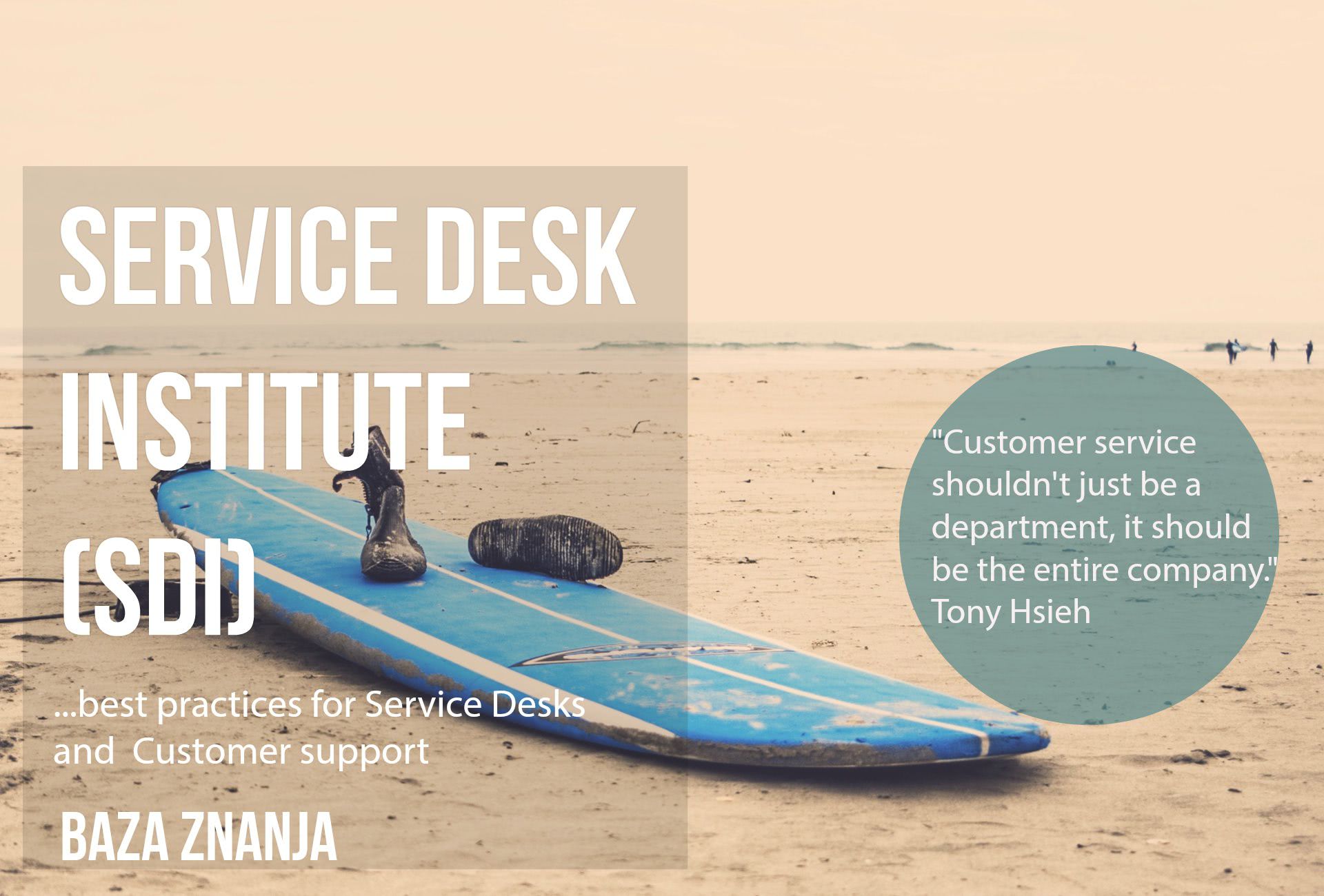 Service Desk Institute (SDI) – Baza znanja
SDI standardi su vodilja za optimizaciju i opcionalno certifikaciju naprednih Support Centra. Service Desk Institute (SDI) je najveća europska i svjetska mreža IT service desk profesionalaca – mjesto za razmjenu iskustava, znanja, savjeta i rješenja. Service Desk Institute-a ostvaruje vodeću ulogu na području IT podrške u svjetskom mjerilu. To čini:
postavljanjem standarda za IT support centre
osmišljavanjem i provedbom programa obrazovanja za IT support profesionalce
programom certifikacije za IT support centre
Naš Service Desk Institute Poster ( free download)
Service Desk Institute poster (free download)
SDI ključnim pokazateljima uspjeha za IT support organizacije smatra:

vođenje (eng Leadership),
politika i strategija (eng. Policy and Strategy),
upravljanje zaposlenicima (eng. People Management),
partnerstva i resursi (eng. Partnerships & Resources),
procesi (eng. Processes),
zadovoljstvo zaposlenika (eng. People Satisfaction),
zadovoljstvo korisnika (eng. Customer Satisfaction),
društvena odgovornost (eng. Social Responsibility)
učinkovitost (eng. Performance Results).
Linkovi
Pronađite mnoštvo korisnih linkova i savjeta iz područja Service Desk Institute-a
Service Desk Institute & Help Desk Institute
Service Desk Institute – ponuda seminara i radionica