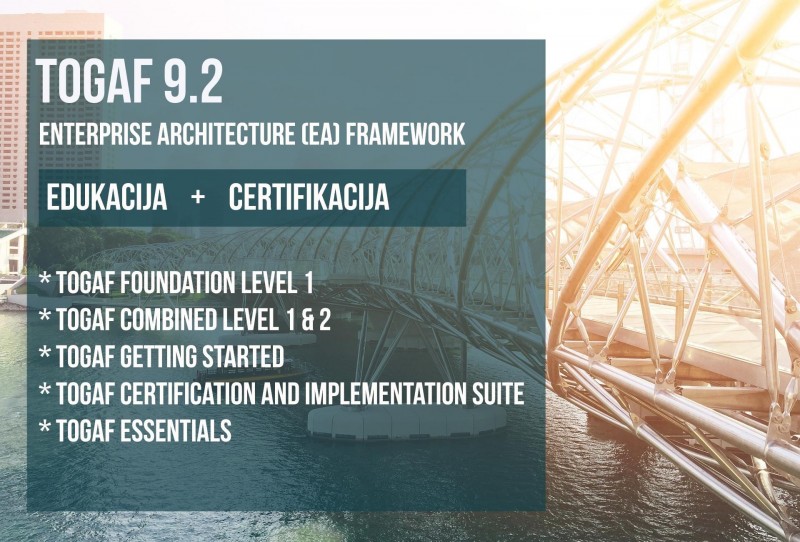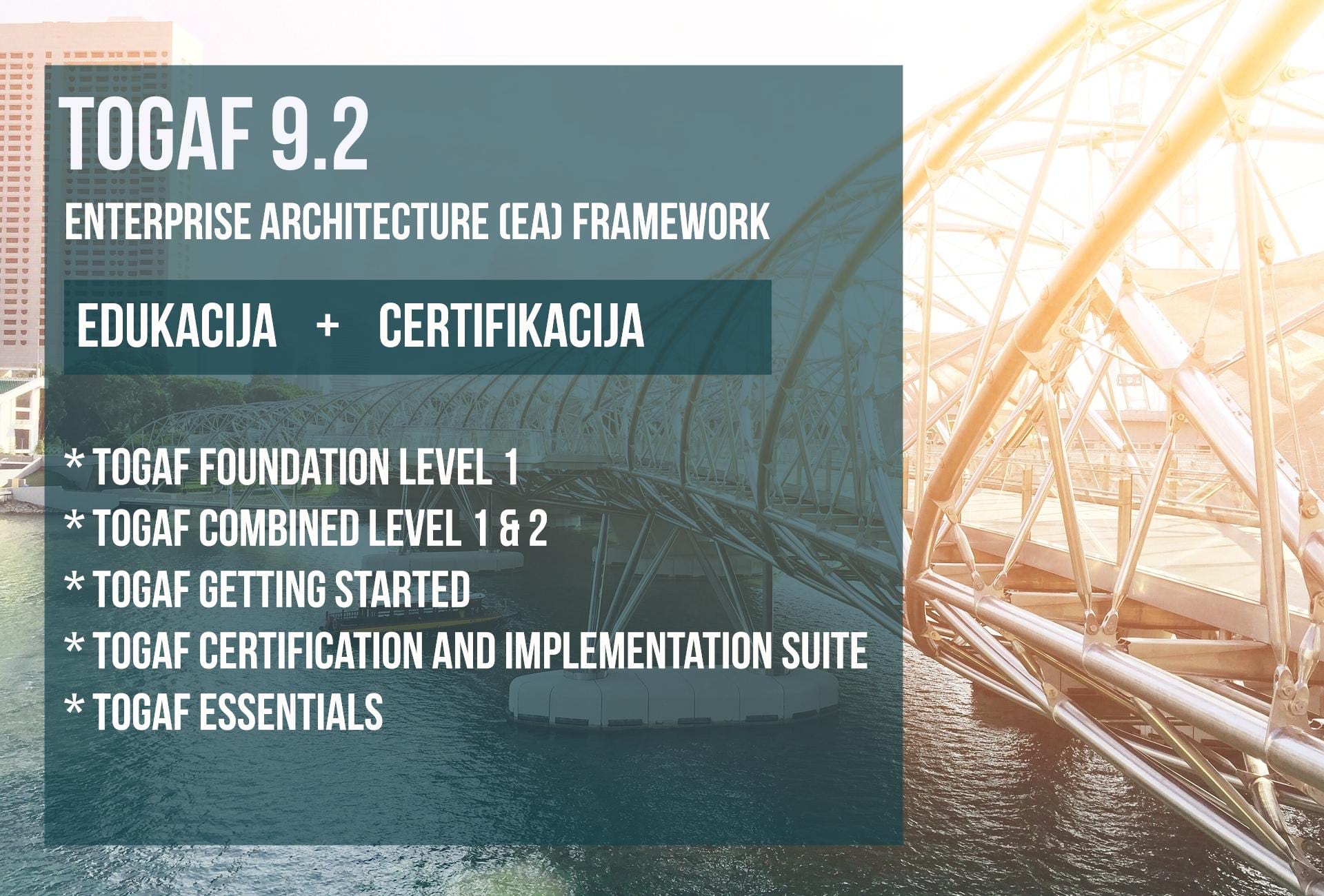 TOGAF 9.2 edukacija i certifikacija
The Open Group Architecture Framework (TOGAF) je framework te de-facto međunarodni standard za razvoj enterprise arhitekture. TOGAF nije vezan uz nikakve komercijalne interese, niti uz određenog dobavljača, te omogućava ostvariti puni potencijal uistinu heterogenih otvorenih sustava. Korištenje TOGAF-a ubrzava i pojednostavljuje arhitekturalni rast sukladno potrebama poslovanja.
TOGAF mogu koristiti sve organizacije koje žele razviti enterprise arhitekturu kako bi je koristile unutar svoje organizacije.
TOGAF se razvija i održava od strane članova The Open Group organizacije, a djeluje unutar Arhitecture Foruma. Verzija 1 nastala je 1995. temeljeno na Technical Arhitecture Fremework for Information Management (TAFIM) razvijenom od strane Ministarstva obrane SAD-a (DoD).
TOGAF podržava četiri domene arhitekture koje su uobičajeno prihvaćene kao sastavni dijelovi
arhitekture organizacije:
Poslovna arhitektura – definira poslovnu strategiju, vođenje, organizaciju i ključne poslovne procese.
Podatkovna arhitektura – opisuje strukturu poslovne logike i fizičkih podataka te resursa za upravljanje podacima
Aplikativna arhitektura – opisuje temelj za razvoj individualne aplikacije, njezine interakcije i veze sa jezgrom poslovnih procesa organizacije.
Tehnološka arhitektura – opisuje logički softver i mogućnosti hardvera potrebnog za podršku razvoja poslovnih, podatkovnih i aplikacijskih usluga poduzeća. Ova arhitektura uključuje i IT infrastrukturu, mrežu, komunikacije, standarde itd.
Enterprise arhitektura (EA)  je framework kojem je cilj uskladiti i povezati poslovnu strategiju, ključne procese u organizaciji i tehnologiju omogućujući nesmetan rad i daljnji razvoj poslovanja. Moglo bi  se reči da EA predstavlja poveznicu između poslovnih zahtjeva i tehničke realizacije, na uzajamno zadovoljstvo obje strane.
TOGAF cjelokupni okvir (framework) za Enterprise Architecture (EA), a ADM-u je u procesnom smislu njegov ključni dio tj. ADM je iterativni i ciklički proces definiranja Enterprise arhitekture, od arhitekturne vizije, preko poslovne, sistemske i tehnološke arhitekture, pa sve do upravljanja promjenama u EA. Osam koraka ADM-a predstavljaju smjernice za uvođenje EA.
Naša ponuda TOGAF 9.2 seminara (e-learning):