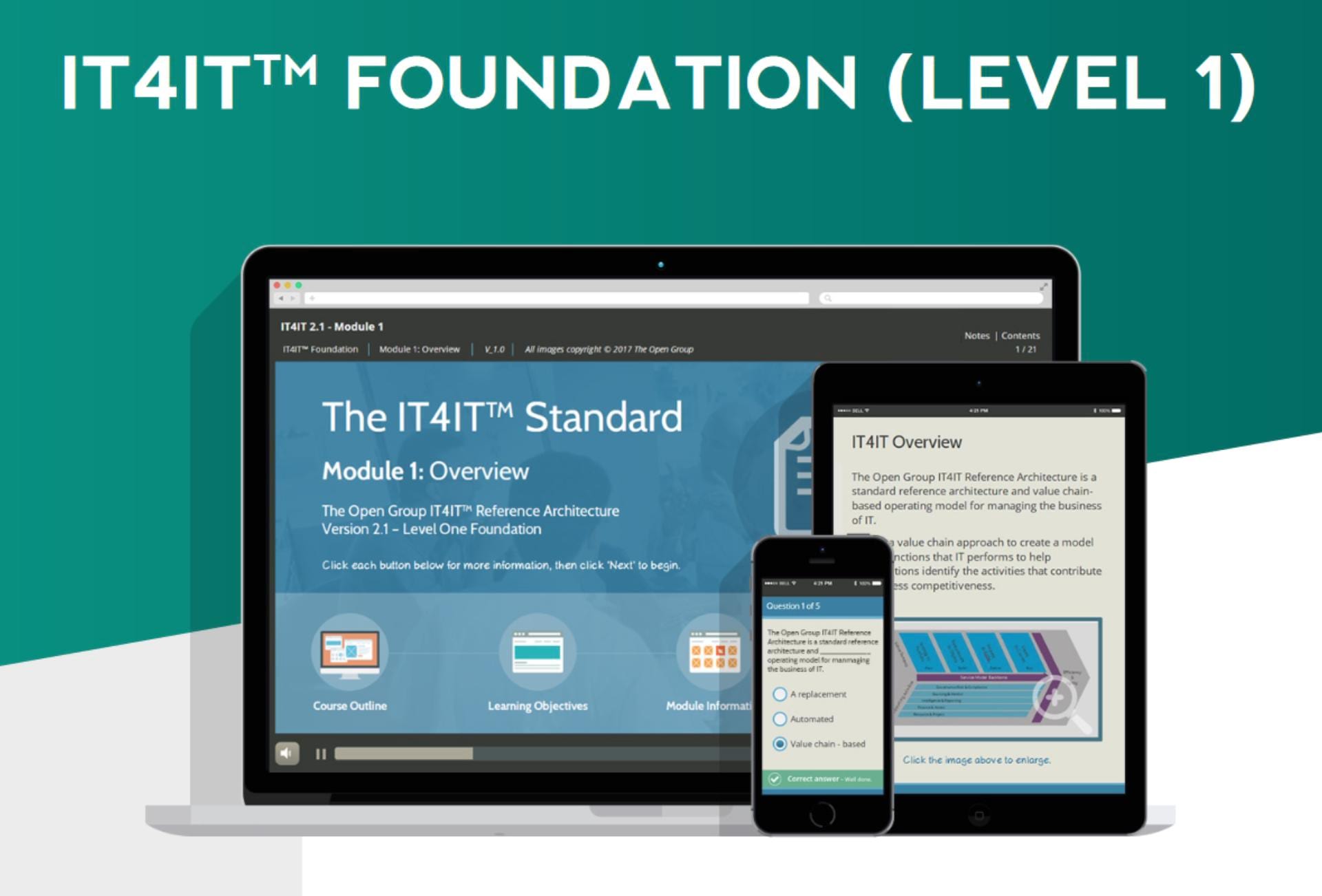 IT4IT edukacija i certifikacija
IT4IT Referentna Architecture propisuje cjelovito upravljanje radom IT-a s kontinuiranim uvidom i kontrolom, omogućujući nesmetani protok informacija kroz cijeli IT lanac vrijednosti.
Open Group IT4IT Reference Architecture standard sadrži referentnu arhitekturu i operativni model baziran na lancu vrijednosti za upravljanje poslovanjem ITa. Standard pruža preskriptivne smjernice o tome kako dizajnirati, nabaviti i implementirati funkcijonalnost potrebnu za rad ITa. Naglasak na IT lanac vrijednosti i IT4IT referentnu arhitekturu omogućuje sustavno praćenje stanje usluga koje IT pruža tijekom cijelog životnog ciklusa usluge.
Naša ponuda IT4IT seminara (e-learning):

This IT4IT course will fully prepare students for the official IT4IT Foundation (Level 1) exam. Successfully passing the examination will earn students a recognized and highly-regarded qualification, proving that they have gained knowledge of the terminology, structure and basic concepts of the IT4IT standard.
The course is self-paced, allowing students to study when it suits them and easily fit training into busy schedules. It can even be accessed via mobile devices, ensuring that learners can study whenever they have time.
The course has been designed for business leaders, enterprise architects, developers, IT engineers, IT operations executives and anyone else with an interest in ensuring that IT can work as quickly and efficiently as possible without sacrificing quality.
Key information about this course:

Price: 619€ + VAT

17 hours of course material included
Includes 24/7 tutor support
Instant 6 months access – start today!
96% average first time pass rate
Exam voucher
Students who complete this course will have learnt:

The basic concepts of the IT4IT Reference Architecture and the IT Value Chain
The concepts of the IT4IT Core
The key terminology of the IT4IT Reference Architecture
The four Value Streams: The Strategy to Portfolio Value Stream, The Requirement to Deploy Value Stream, The Request to Fulfill Value Stream, and The Detect to Correct Value Stream
The structure of the IT4IT Certification program
Prerequisites: None
Supervised: Yes
Open Book: No
Exam type: Simple Multiple choice
Number of questions: 40
Pass score: 65% (26 out of 40 questions)
Time limit: 60 minutes
Retake policy: If you fail the test you must wait one month before another attempt
Each e-learning course comes with a revision module that gives you an overview of the course and the key principles and concepts that you need to understand in order to pass the IT4IT Foundation exam.
Our IT4IT e-learning course comes optionally with an exam voucher that can be used to schedule your exam. When you think you're ready, just contact us and we'll order your exam voucher.