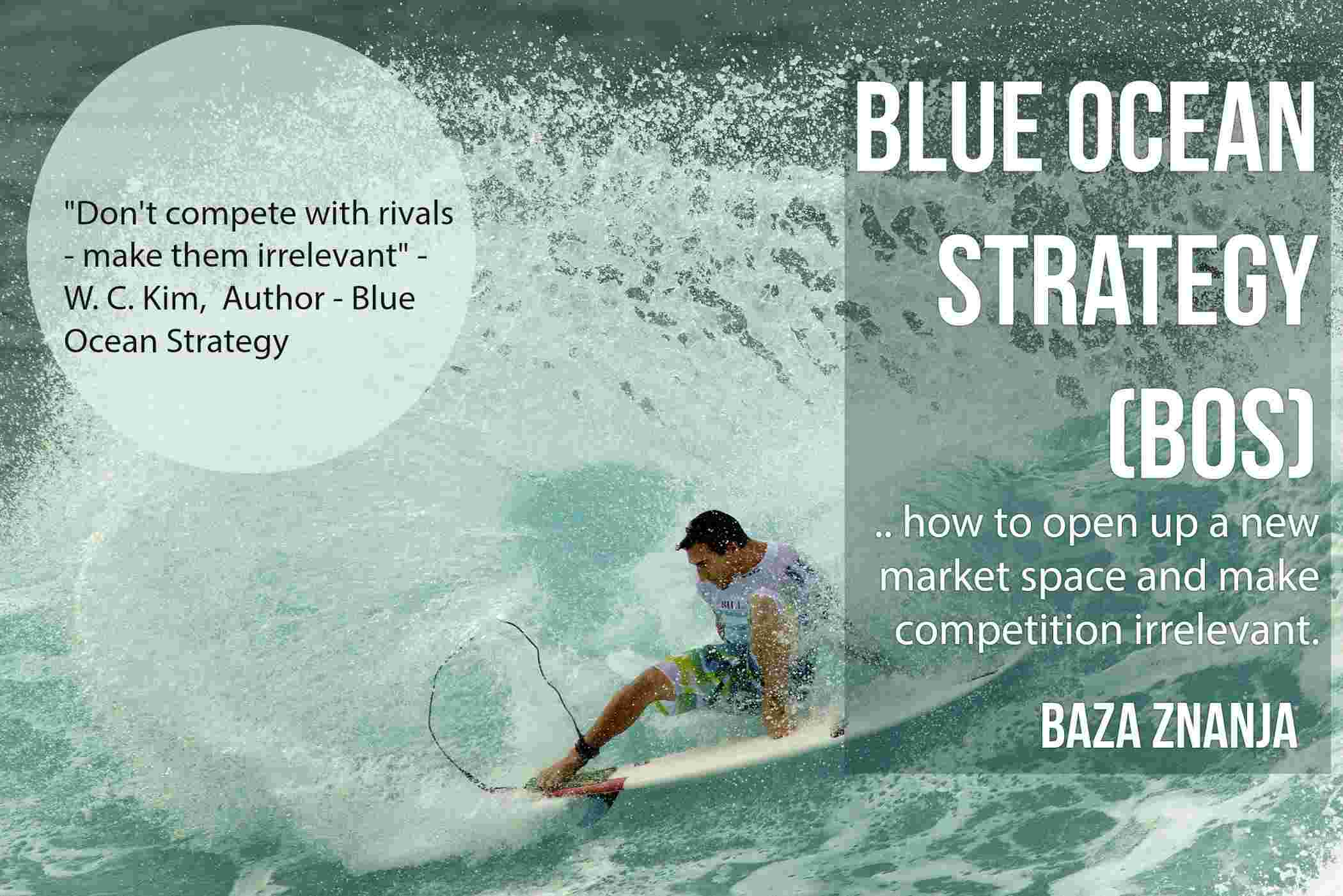 Blue ocean strategy – baza znanja
Pronađite mnoštvo korisnih Blue Ocean Strategy resursa  ( posteri, infografike, vodiči, webinari…)
Blue ocean strategy…ili kako konkurenciju učiniti nevažnom.
Pretpostavka: Tržišni prostor je sastavljen od dviju vrsta oceana: crveni oceani i plavi oceani.
Crveni ocean je metafora za krvavu i bespoštednu konkurenciju u istom tržišnom prostoru. Poslovni svijet današnjice uređen je pretežno prema načelima i logici crvenih oceana, temeljenima na konkurenciji u poznatom tržišnom prostoru.
Plavi ocean je metafora za posve drugačije promišljanje o strategijama i načina upravljanja poslovanjem poduzeća i organizacija nego što je to do sada bilo uobičajeno. Novi pristup zasniva se na otkrivanju neosporavanog i neupitnog prostora na tržištu, čime konkurencija gubi na značaju jer postaje sporednom činjenicom poslovanja.Premda su neki plavi oceani stvoreni daleko izvan postojećih granica industrijskih grana, većina njih je nastala proširivanjem dosadašnjih granica industrijskih grana unutar crvenih oceana ( npr. Cirque du Soleil). U plavim oceanima konkurencija je sporedna jer pravila igre tek treba postaviti.
Iako je pojam plavi oceani nov, plavi oceani su realnost poslovnog života, prošlost i sadašnjost.
Pogledajte stoljeće unatrag!
Pitanje: Koliko je današnjih industrijskih grana tada bilo nepoznato?
Odgovor: Za mnoge temeljne industrijske grane, poput automobilske, muzičke naklade, avionske, petrokemijske, skrbi o zdravlju, savjetovanja u upravljanju – nije se čulo ili su se u to vrijeme tek počele uzdizati.
Pogledajte tridesetak godina unatrag!
Pitanje: Koliko je današnjih industrijskih grana tada bilo nepoznato?
Ponovno, obilje milijardi dolara vrijednih industrijskih grana – zajednički fondovi, mobilni telefoni, plinske elektrane, biotehnologija, diskontna trgovina na malo, brza isporuka pošiljaka, mikrovalne pećnice, daske za skijanje (snowboards), kafići i kućni video itd. Samo tri desetljeća ranije, nijedna od tih industrijskih grana u konkretnijem smislu nije postojala.
"Pogledajte u budućnost": dvadeset godina unaprijed!
Pitanje: Koliko će danas nepoznatih industrijskih grana tada vrlo vjerojatno postojati?
Odgovor: Mnogo….industrijske grane nikada ne miruju.
Razlike između strategija koje se zasnivaju na konkurenciji crvenih oceana i strategije plavih oceana su sljedeće:
Strategije crvenog oceana: Strategije u čijim je temeljima konkurencija interesa imaju za cilj nadmašiti konkurenciju na postojećem tržištu ograničene potražnje i ogromne ponude sličnih vrijednosti. S nebitnim poboljšanjima, koja proizlaze iz rezultata istraživanja tržišta, segmentacije tržišta i razlika u preferencijama postojećih potrošača i kupaca, istraživanjem najbolje prakse konkurenata i sličnim pristupima, nastoji se povećati udio na tržištu kako bi se osigurao daljnji rast i zarada. Oponašanje uspješne poslovne prakse među konkurentima često je i vrlo brzo, što se odražava u približavanju krivulja vrijednosti prikazanih na platnu strategije.
Strategije plavog oceana, suprotno tome, polaze od teze kako je za uspjeh poslovanja važnije maknuti svoju pozornost s onoga što čine konkurenti i usredotočiti se na inovacije vrijednosti koje otvaraju novi neupitan tržišni prostor. Skokom vrijednosti za kupce, konkurencija za uspješno poslovanje poduzeća postaje sporednom stvari. Da bi se to postiglo, valja se usmjeriti na rekonstruiranje postojećih granica tržišta, industrije i potražnje. Umjesto istraživanja tržišta postojećih potrošača i kupaca, stratezi plavih oceana upućuju se na one koji ne kupuju vrijednosti iz sadašnje ponude na tržištu. Pri tome ih zanima ono što je ne- potrošačima, ne-kupcima zajedničko, a ne ono po čemu se međusobno razlikuju. Kako se strategija plavog oceana zasniva na inovacijama vrijednosti, ona ujedno sadrži bitna spoznajna i operativna ograničenja za moguća kopiranja od strane drugih, što poduzećima omogućuje desetak i više godina relativno mirnog života od nasrtaja potencijalnih konkurenata. Tu su tvrdnju autori dokazali na primjerima Cirque du Soleil, Southwest Airlines, CNN, Federal Expressa itd..
Pinterest – Blue Ocean Strategy
Linkovi