CMM – Capability Maturity Model Baza znanja
Ivana Nissen
2016-11-14T12:20:29+00:00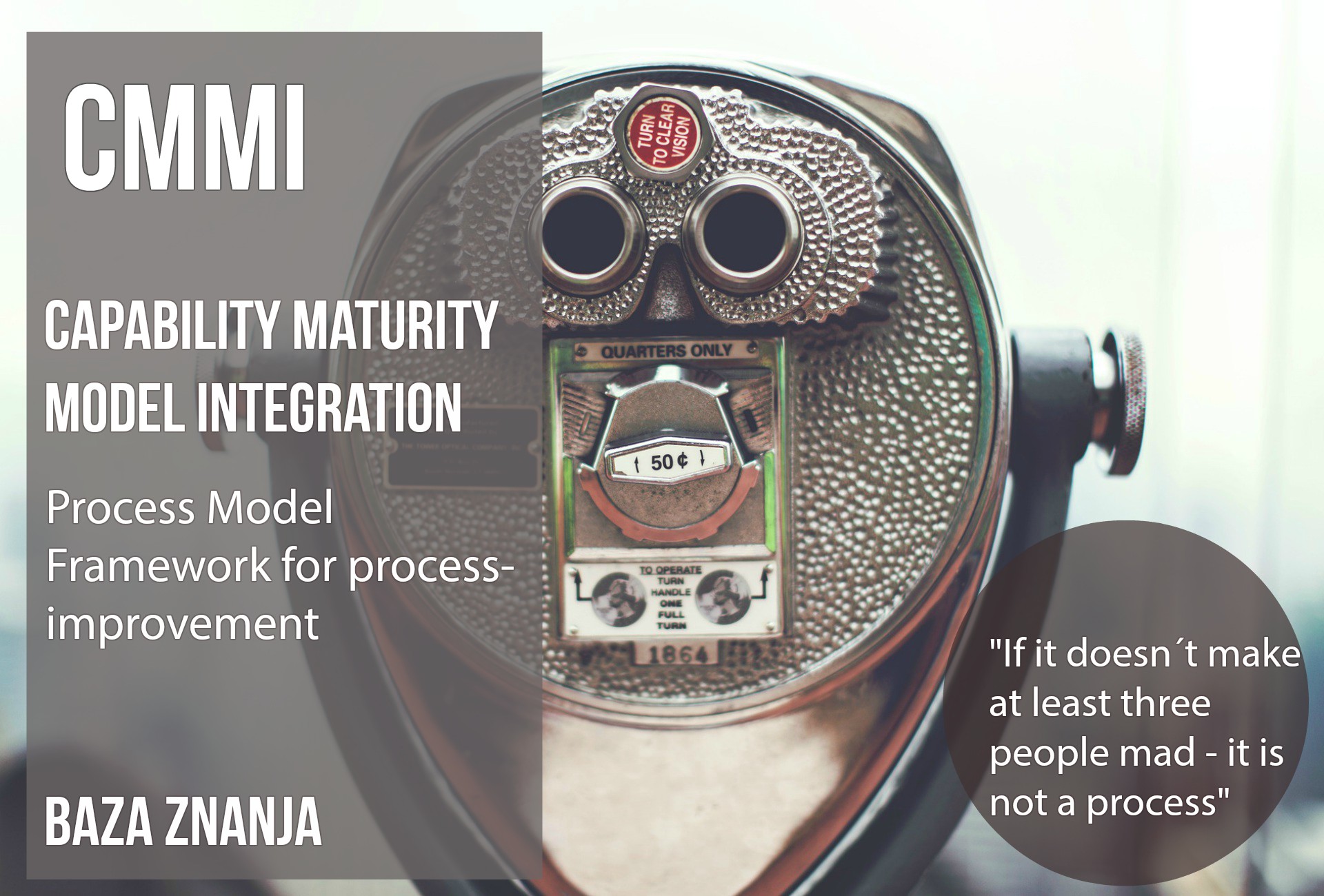 CMM – Capability Maturity Model
Pronađite mnoštvo korisnih linkova i savjeta iz područja CMM – Capability Maturity Modela
Povijest CMM-a
CMM – Capability Maturity Model nastao je pod patronatom Instituta softverskog inženjerstva (Software Engineering Institut – SEI) 1987. godine u SAD – u i danas se smatra međunarodno prihvaćenim modelom za ocjenu zrelosti softverskih, ali i sveukupnih poslovnih procesa i identifikaciju ključnih koraka neophodnih za poboljšanje kvalitete ovih procesa u nekoj organizaciji.
Cilj razvitka modela bio je prosuđivanje kvalitete razvoja, odnosno transformacija softverskih procesa od kaotičnih ad hoc aktivnosti u zrele i disciplinirane softverske procese no sam model razvio se u puno više od toga i našao najrazličitije primjene.
Struktura CMM-a
Cjelokupna sposobnost ili potencijal organizacije sadržan je u konceptu zrelosti koji je opisan razinama kao točkama procjene stupnja efikasnosti organizacije u određenom vremenu. CMM je organiziran u pet razina zrelosti, pri čemu su niže razine temelj višim razinama zrelosti.
Razine zrelosti su svojevrsne "evolucijske stepenice" prema postizanju zrelog procesa pri čemu svaka razina pruža novi temelj za kontinuirano poboljšanje procesa.
1.Inicjalna razina (eng. The Initial Level)
2.Ponavljajuća razina (eng. The Repeatable Level)
3.Definirana razina (eng. The Defined Level)
4.Upravljana razina (eng. The Managed Level)
5.Optimizirajuća razina (eng. The Optimizing Level)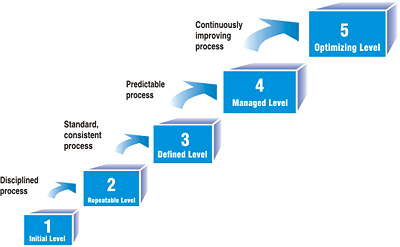 Smatra se da se predvidljivost, efektivnost i kontrola poslovnih procesa organizacije poboljšavaju kako se organizacija penje sa nižih na više razine. To potvrđuju i brojni empirijski dokazi.
Derivirani oblici CMM –a
Kao rezultat kontinuiranog razvoja i širenja koncepta osnovnog CMM modela, te multidisciplinarnosti područja primjene u poslovnoj praksi krajem
devedesetih godina razvijaju se specijalistički modeli za pojedina područja razvoja cjelokupnog poslovnog sustava kao što su CMM-I, P-CMM, SSECMM,…
Radi se deriviranim oblicima osnovnog modela, specijalističkim alatima koji su razvijeni kako bi organizacijama koje ga koriste omogućili da poboljšaju svoje proizvode i usluge, akvizicije i poslovanje, da bolje iskoriste ljudske potencijale, ukratko da unaprijede svoje poslovne procese. Modeli koji bi svoju primjenu mogli pronaći u primjeru reinženjerstva poslovnih procesa su:
PMM – Process Maturity Model:
U 1997-oj je CCTA objavila model zrelosti procesa (PMM – Process Maturity Model) koji razlikuje 5 stupnjeva zrelosti. Model je baziran na sličnim modelima, npr. Software Institute´s Capability Maturity Model (CMM) I ISO´s Software Process Improvement and Capability Determination (SPICE)
Pet stupnjeva zrelosti processa su:
1.Predanost organizacije (eng. Organisational Commitment)
2.Djelatna sposobnost (eng. Performance ability)
3.Stvarna aktivnost (eng. Actual activity)
4.Mjerenje i analiza (eng. Measurement and analysis)
5.Potvrda stvarnog procesa (eng. Verification of the actual process)
Ovaj model je kasnije bio revidiran od strane OGC-a koji je dodao među-nivoe i na taj način stvorio devet nivoa u rasponu od preduvjeta do sučelja prema klijentu.
CMM-I – Capability Maturity Model Integration
Koncept ovog modela objedinjuje sistemsko i softversko inženjerstvo, razvoj proizvoda i usluga, te poslovnih procesa i podršku korisnicima. Na osnovama tradicionalnog CMM koncepta procesnog i projektnog managerstva ovaj je model razvijen kako bi se koristio u interakciji sa drugim CMM modelima, također se fokusirajući na zadovoljenje određene razine zrelosti pri razvijanju ili vrednovanju određenih procesa. Bitno je naglasiti da su kroz razvoj CMM – a oblikovane određene standardne metode – SCAMPI (Standard CMM Appraisal Method for Process Improvement).
P-CMM – People Capability Maturity Model
P-CMM također je nastao temeljem standardnog CMM modela, a predstavlja model primijenjen procesima vezanim uz ljudske potencijale. U praksi svoju vrijednost potvrđuje sinergijskim međudjelovanjem znanja o ljudskim potencijalima, managementu znanja i poslovne organizacije, a u cilju razvoja i upravljanja ljudskim potencijalima. Ovaj model također se koristi u interakciji sa drugim modelima čime se integrira razvoj ljudskih potencijala i poslovnih procesa. Cilj modela je usavršavanje sustava ljudskih potencijala kroz kontinuirano razvijanje individualnih kompetencija, razvoj timova i odjela, te uspostavljanje korporativne kulture.
Jezici koje govorimo su: hrvatski, engleski i njemački.
Za daljnje informacije, kontaktirajte nas direktno.