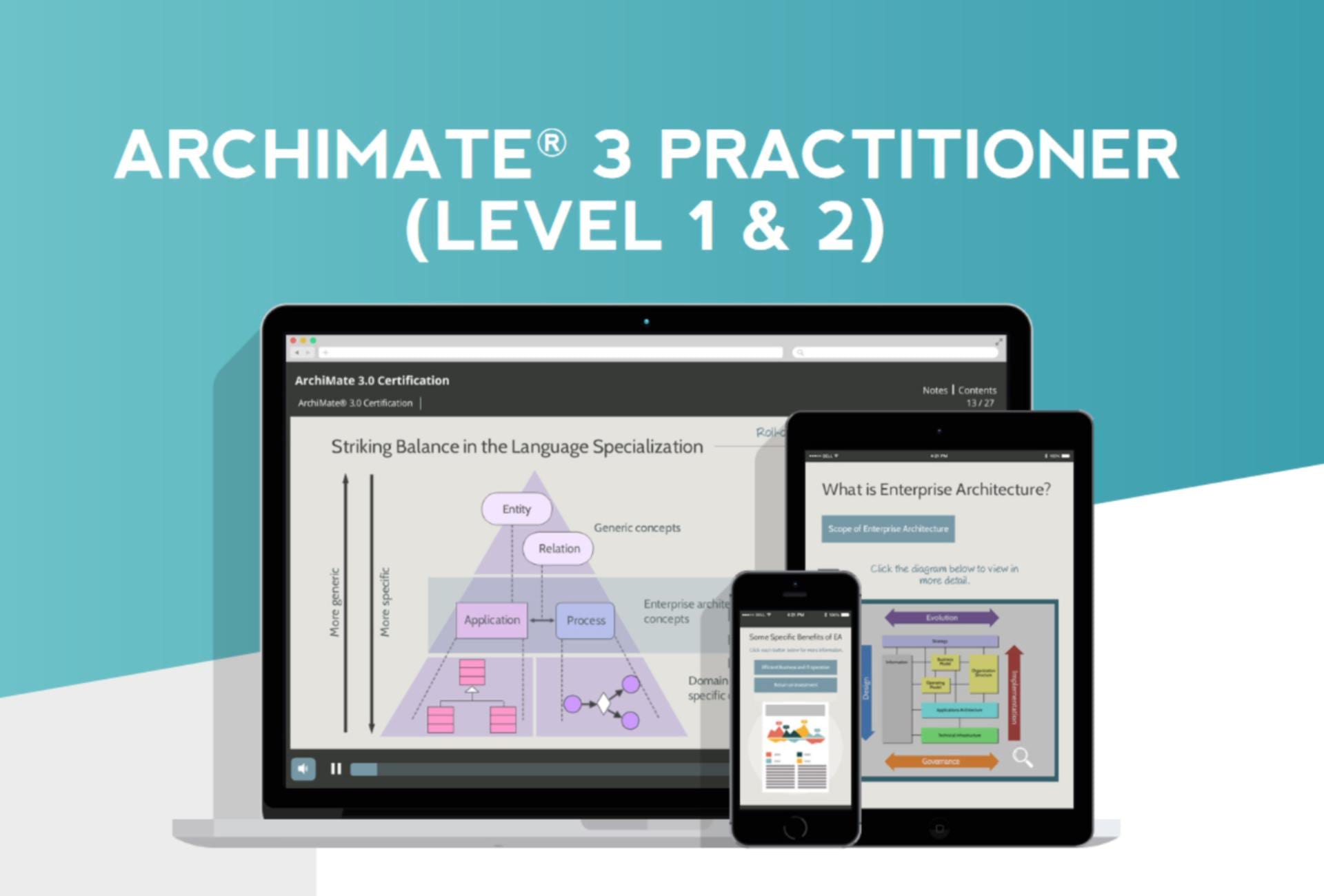 ArchiMate edukacija i certifikacija
ArchiMate 3.0 Practitioner (Certified ( Level 1 & 2))
ArchiMate je otvoren i nezavisan jezik za modeliranje poslovne arhitekture koji podržava opis, analizu i vizualizaciju  arhitekture u okviru poslovnih domena kao i izvan tih domena na nedvosmislen način. Okvir arhitekture se koristi za struktuiranje koncepata i veza ArchiM jezika. On dijeli poslovnu arhitekturu na tri sloja:
poslovni,
aplikativni i
tehnološki.
Na svakom sloju se razmatraju tri aspekta:
aktivni elementi koji uzrokuju ponašanje – procesi ili funkcije,
interna struktura
elementi koji definiraju korištenje informacija ili komunikaciju.
Jedan od ciljeva ovog pristupa je definicija veze između koncepata koji se koriste u različitim arhitekturnim domenima. Koncepti se zbog toga nalaze u srednjem sloju između detaljnih koncepata koji se koriste za modeliranje na individualnom domenu i drugih koji se koriste za modeliranje poslovnih procesa.
Naša ponuda ArchiMate seminara (e-learning):
ArchiMate 3.0 Practitioner (Level 1 and Level 2)

This particular course is accredited by The Open Group, the organization behind ArchiMate and TOGAF, and meets all of the learning requirements for achieving an ArchiMate 3.0 certification.
Completing the course and passing the exam will provide you with an industry-recognized qualification. It will also enable you to apply the ArchiMate specification within real-world architecture practices.
Key information about this course:
Price: 969 € + VAT   ( 12 month E-learning + 2 Exam Vouchers)

20 hours of course material included
Accredited by The Open Group
Includes 24/7 expert tutor support
12 months access – start today!
Practice Exams
96% average first time pass rate
This course is ideal for:
Anyone who is required to demonstrate practical knowledge of the ArchiMate modeling language
Anyone who will be responsible for developing architecture artefacts using ArchiMate language notation
Anyone who wants to achieve a recognized qualification to help demonstrate their practical ability to apply the ArchiMate modeling language
To complete your certification in ArchiMate 3.0, you must pass a 2-part examination process.
Part 1 can be taken after the completing the ArchiMate e-Learning certification course. Part 2 is the second and final part of the 2-part certification process for ArchiMate Certification and can only be taken after successfully passing the Foundation Level exam;
Pearson Vue is an authorized provider of exams for TOGAF, IT4IT and ArchiMate certifications. It hosts exams worldwide through a network of test centers. We will provide you with a free combined voucher for both ArchiMate exams on request.
Exam vouchers must be claimed within 12 months of first gaining access to this course. They remain valid for 12 months from the date of issue.
What you need to know about the ArchiMate 3 Foundation exam:
This is a multiple choice exam consisting of 40 questions
There is a time limit of 60 minutes to complete the exam
The pass-mark for the exam is 60%: you must get 24 out of 40 questions correct
The exam is closed book – you cannot make use of any resources or materials during the exam
What you need to know about the ArchiMate 3 Practitioner exam:
This is a multiple choice exam consisting of 8 questions
There is a time limit of 90 minutes to complete the exam
Each correct answer scores five points, each second-best answer scores three points, each third-best answer scores one point, each 'distractor' answer (incorrect) scores no points
The pass-mark for the exam is 70%: you must get 28 out of 40 questions correct
The exam is OPEN book