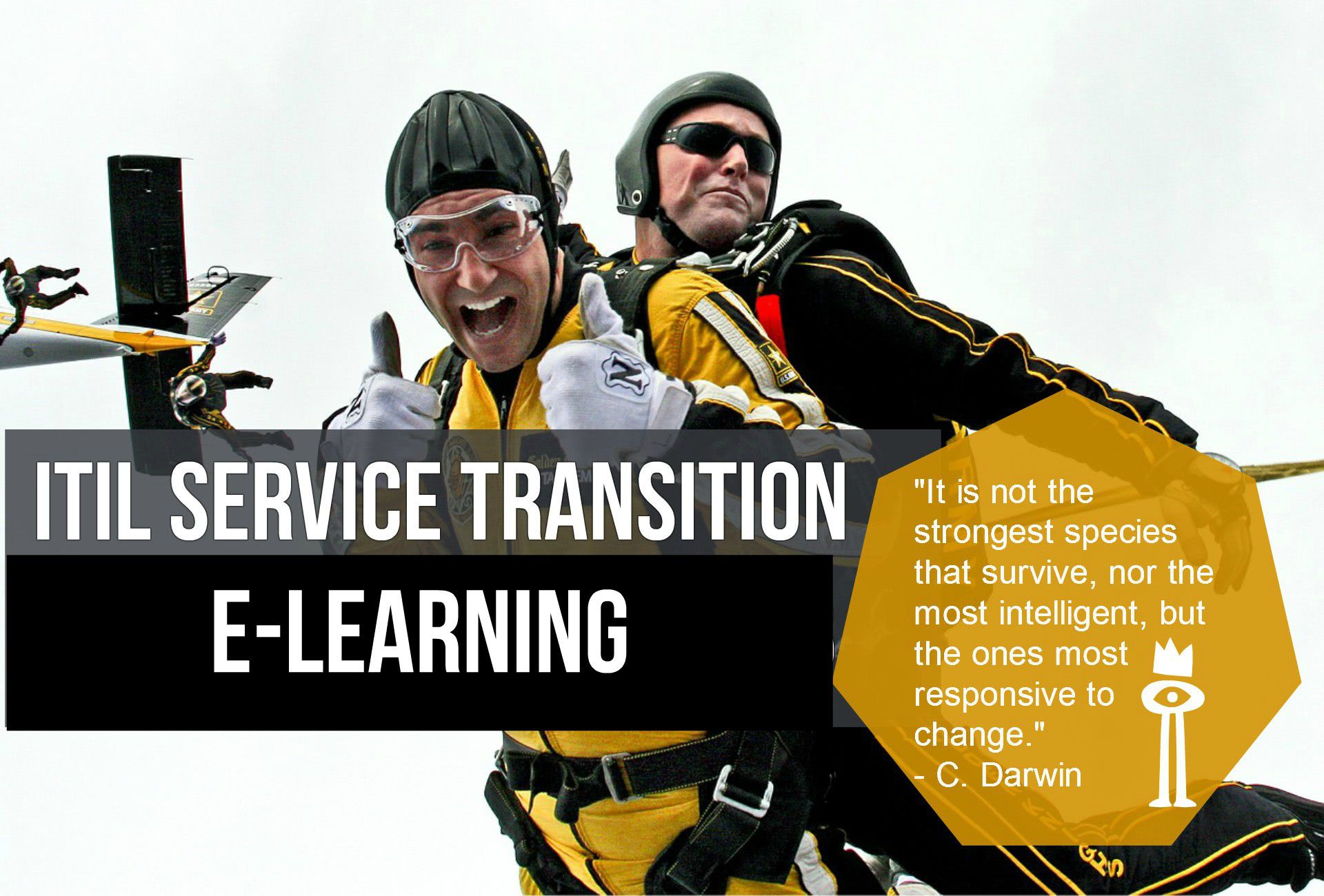 ITIL Intermediate – Service Transition ( E-learning)
ITIL Service Transition is a free-standing qualification and is one of five ITIL Service Lifecycle modules that can work towards you achieving your ITIL expert qualification.
The purpose of this course is to help you gain a detailed understanding on industry practices in service management as documented in the ITIL Service Transition publication.
This course is intended for management and supervisory level staff. You may be involved in Service Transition yourself, or you may just wish to understand the processes and principles involved, as they affect the work that you do.
This ITIL Intermediate course covers the management-level concepts and core information of the supporting activities within Service Transition, but not specific details about each of the supporting processes. It will also provide a complete overview of Service Transition including all its related activities.
Service Transition ensures that the strategy requirements which service design used to design the new or changed service are effectively realized through to the delivery of live services in the service operation stage.
It uses the outputs from service design to ensure that service solutions are smoothly migrated to live operation, fulfilling agreed customer and business requirements.
Our course has been fully accredited by EXIN, who are licensed by AXELOS as an Examination Institute for IT Service Management.
ITIL® is a registered trademark of AXELOS Limited.
ITIL Intermediate Service Transition (ST)
The examination will consist of a complex multiple choice, scenario-based closed book paper of 8 questions, to be answered within 90 minutes.
To pass the exam you must get 28 out of 40 questions correct, or 70%.
The course materials provided in the Service Transition e-Learning course will provide you with all the information you need for this exam. You will be tested on:
Introduction to Service Transition
Service Transition Principles
Service Transition Processes
Managing People through Service Transition
Organizing for Service Transition
Technology Considerations
Implementation and improvement of service transition
Challenges, critical success factors and risks
Exam Duration: Maximum 90 minutes for all candidates in their respective language (Candidates sitting the examination in a language other than their first language have a maximum of 120 minutes and are allowed to use a dictionary).
Before you book you can test that your computer configuration will meet the requirements for an EXIN Anywhere exam, using an online test provided by Exin.
This test focuses on the suitability of your webcam, microphone and internet connection.
Frequently asked questions:
How to book an exam: You can book an EXIN Anywhere exam via the Exin Anywhere website. You will first need to create an EXIN account by filling in your personal details.In order to book your exam, you will need an Exam Voucher. If you purchased this with your course, when you think you are ready to book, please contact us and we will send one immediately. The exam voucher is valid for 1 year from the date of issue.
How to take the exam: Because the exam is taken online, you can take it at a location and time that suits you.Using EXIN Anywhere software, your computer's webcam and microphone records your exam session from start to finish.At the end of the exam, the recorded video and audio is then sent to Exin, to be reviewed retrospectively by a remote proctor. The proctor will look at the recorded footage to check you have complied with exam guidelines.
Receiving your exam results: As soon as you finish the exam you will immediately receive an email with a preliminary (tentative) result. This result will not be confirmed until your exam session has been reviewed by a remote proctor.If, after reviewing the audio and video of your exam session, no issues are detected by the proctor, you will receive a final (confirmed) result within 10 working days by email.When you receive your result, you will also be given login details to the Exin "Candidate Portal". If you have passed the exam, you can log in to the Candidate portal to download a digital certificate.
Is your computer suitable for this exam: Before you book, you must test that your computer configuration will meet the requirements for an EXIN Anywhere exam, using an online test provided by Exin.This test analyses your PC or laptop's webcam, microphone and internet connection to ensure that you will be able to successfully take the exam.For further innformation, please visit the Exin Anywhere website for a complete list of information and guidance. You can download the Terms and Conditions of the Exin Anywhere service here.