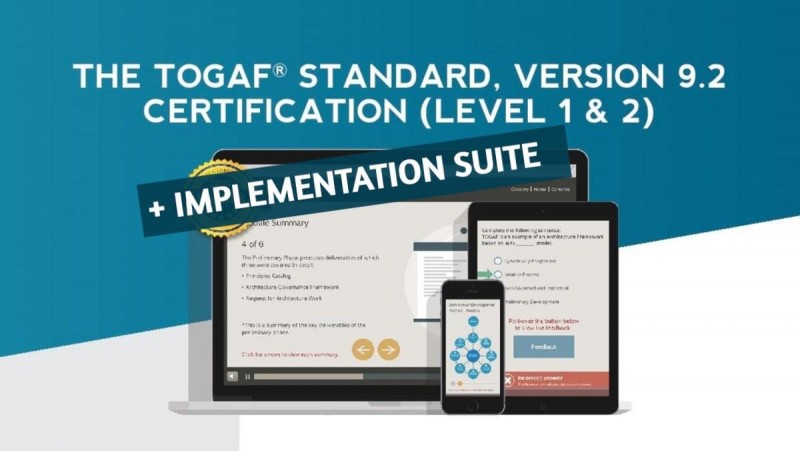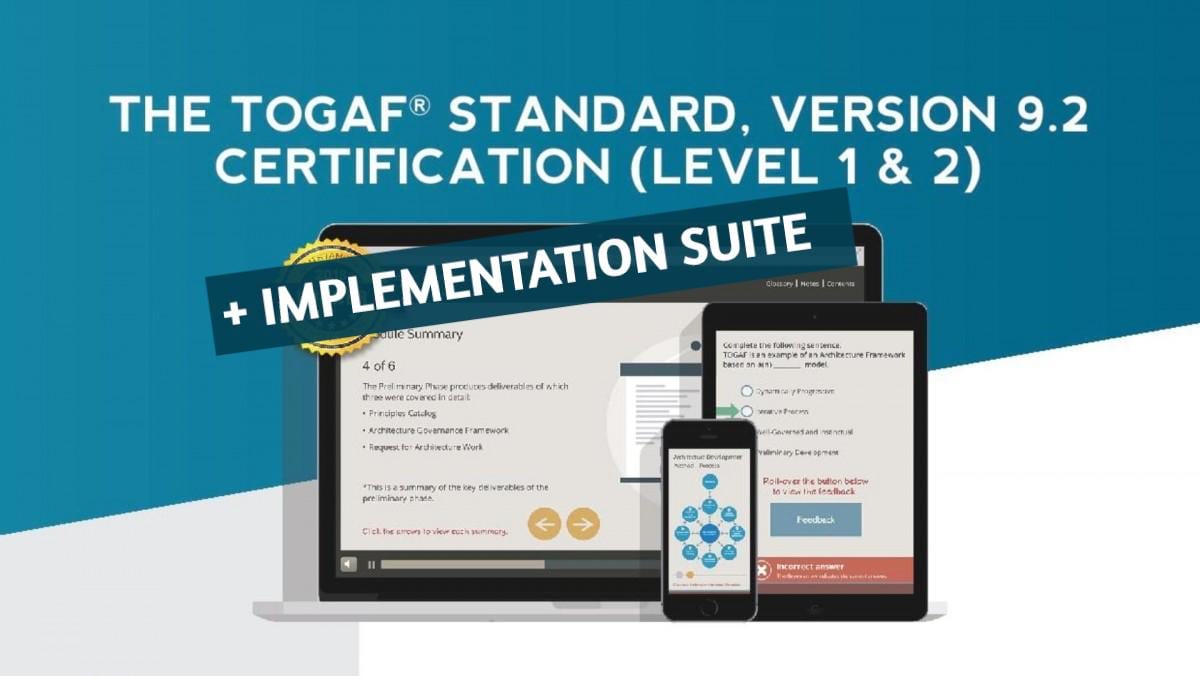 TOGAF 9.2 edukacija i certifikacija
TOGAF 9.2 Combined  Level 1 & Level 2 + Implementation suite
This TOGAF package is ideal for anyone wishing to pass the TOGAF 9.2 Certification (level 1 & 2) exams and learn how to implement the TOGAF framework within real organizations.
With this course, you'll receive 12 months of access as well as a FREE combined TOGAF 9.2 Certification (level 1 & 2) exam voucher (valid for 12 months). Just contact us when you are ready to sit the exams!
Key information about this course:
Price: 1.479 € + VAT
Combined E-learning Level 1 & 2 + Implementation (1.179€) + Combined Exam Voucher Level 1 & 2 (300 €) + VAT

50+ hours of course material included
Fully accredited by The Open Group
Includes revision modules, practice exams, and 24/7 tutor support
Instant 12 months access
Downloadable PDF workbook
Quizzes and revision modules
Mock exam simulator with answers
Award winning TOGAF training
1 x  combined exam voucher on request
Learn how to set up an effective EA Practice
This fully accredited online course offers everything you need to pursue TOGAF 9.2 Certification. The TOGAF business enterprise architecture framework is world-renowned, and our course can help you pass the Foundation (level 1) and Certified (Level 2) examinations!
Why you should take this course:
Become a Certified TOGAF 9 Practitioner with this online suite of courses!
With this TOGAF package, students will receive all the required learning materials to prepare for and sit the TOGAF 9.2 Foundation (level 1) and Certified (level 2) exams. This includes 200 multiple-choice practice exam questions, posters, white papers and 24/7 support.
However, this course is not just about theory! Students will also be shown how to implement their knowledge and set up an effective enterprise architecture practice, which can then be applied to real organizations.
This suite of courses is ideal for:
Individuals who require a deeper understanding of the TOGAF 9 Standard

Professionals who are working in an organization where the TOGAF 9 Standard has been adopted, and who need to participate in architecture projects and initiatives

Architects who will be responsible for developing architecture artefacts

Architects who wish to introduce the TOGAF 9 Standard into an architecture practice

Architects who want to achieve a recognized qualification in order to demonstrate their detailed knowledge of the TOGAF 9 Standard
What you need to know about the Foundation (Level 1) exam:
This is a multiple choice exam consisting of 40 questions.
There is a time limit of 60 minutes to complete the exam
The exam is closed book – you cannot make use of any resources or materials during the exam
To pass the exam you must get 22 out of 40 questions correct (55%)
In countries where English is a second language, the time allocated for the exam is extended to 90 minutes
What you need to know about the Certified (Level 2) exam:
This is an open book examination consisting of 8 questions
There is a time limit of 90 minutes to complete the exam
Each correct answer scores 5 points
Each second-best answer scores 3 points
Each third-best answer scores 1 point
The pass mark for the exam is 60%: you must get 24 out of 40 questions correct
Pearson Vue are the authorized providers of exams for TOGAF, IT4IT and ArchiMate certification, and host exams worldwide through a network of test centers. We can provide you with a voucher for the Foundation level 1 and Certified Level 2 exam on request.
The exam voucher is valid for 12 months from the date of issue.
TOGAF 9.2 courses feature a student workbook, available as a PDF download. The student can use this workbook to make notes as they progress through the courses. A completed workbook makes a great resource for exam preparation.
Either print out the workbook and make hand-written entries, or (if you have Adobe Reader 11 or later) make notes directly into the PDF.
Each module concludes with a number of multiple choice questions that cover the information you have just engaged with. Use these opportunities to test your understanding and recall of the topics as you progress. Revisit the module until you are comfortable in answering the questions correctly. You can then move on to the next module with confidence.
One mock exam and mock exam simulator with answers is included within the course to prepare students to take the official exam as best possible.