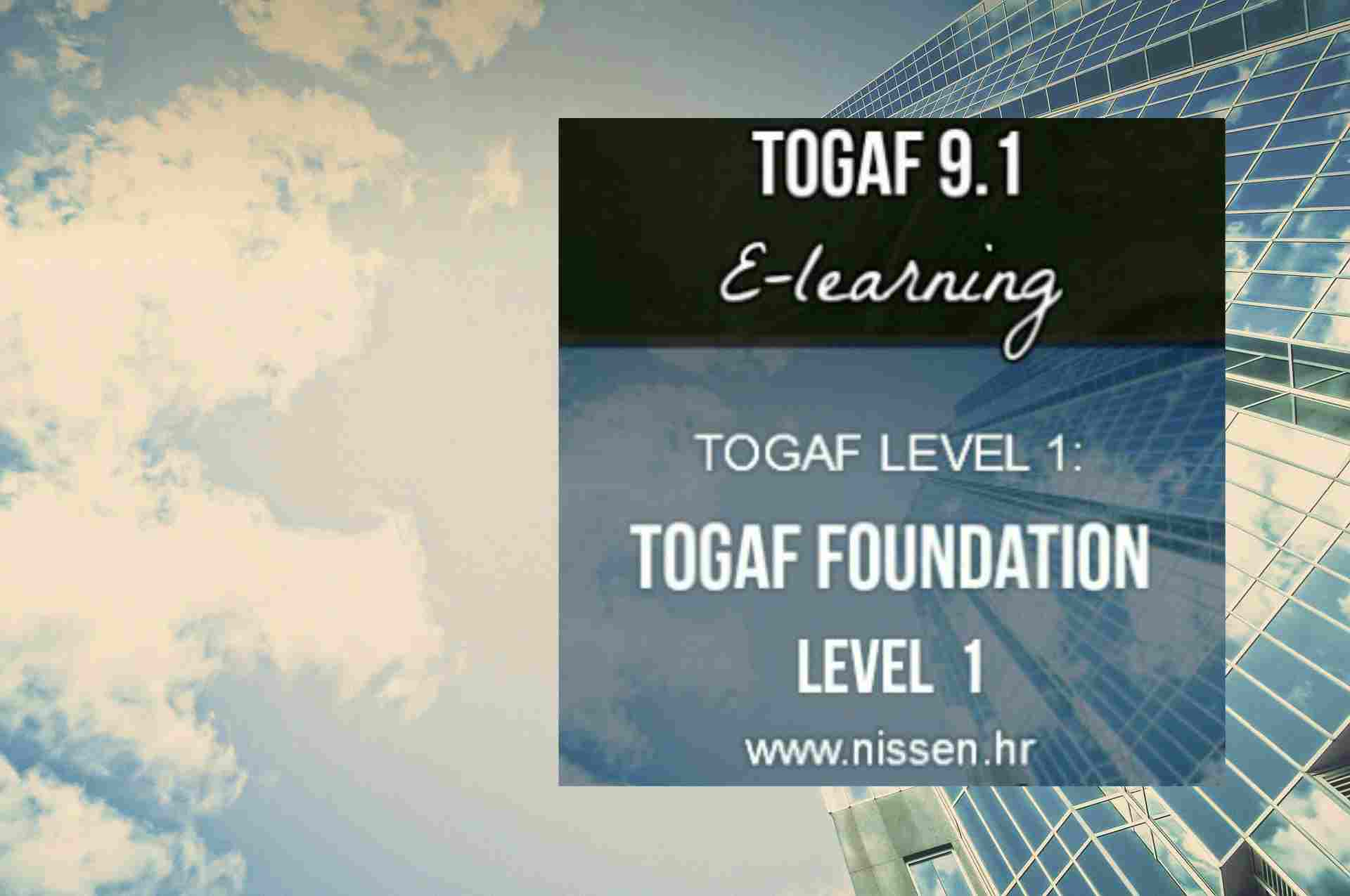 TOGAF edukacija i certifikacija
TOGAF 9.1 Foundation ( Level 1)
This is an accredited online training course, designed by TOGAF experts to prepare you with everything you need to gain TOGAF Certification at Foundation level.
TOGAF provides an iterative approach to development at four levels of architecture: Business, Application, Data, and Technology.
The Architecture Development Method (ADM) is the keystone of the framework and is covered extensively in this course with interactive guides, quizzes, and videos.
Our TOGAF 9 Foundation e-Learning course has been accredited by The Open Group and will give you a good knowledge of the TOGAF 9 standard.
This course meets all the learning requirements of the latest version of TOGAF released by The Open Group – TOGAF 9.1.
With this course, you'll receive 6 months access from the date of purchase.
Optionally you can purchase an exam voucher to use whenever you are ready to sit the TOGAF Level 1 exam!
The course includes:
8 hours of course material included
Fully accredited by The Open Group
Includes revision modules, practice exams, and 24/7 tutor support
Instant 6 months access – start today!
Save
What you need to know about the exam:
This is a multiple choice exam consisting of 40 questions.
There is a time limit of 60 minutes to complete the exam
The exam is closed book – you cannot make use of any resources or materials during the exam
To pass the exam you must get 22 out of 40 questions correct (55%)
TOGAF exams are hosted at authorized Prometric Testing Centers around the world. Find your nearest Prometric Test Center.
Each e-learning course comes with a revision module that gives you an overview of the course and the key principles and concepts that you need to understand in order to pass the TOGAF Part 1 exam.
When you think you are ready to book your exam, you can check if you are ready by taking our practice exam supplied with each course. It's modeled directly on the real thing and is a great way to check your preparedness before you book your exam.