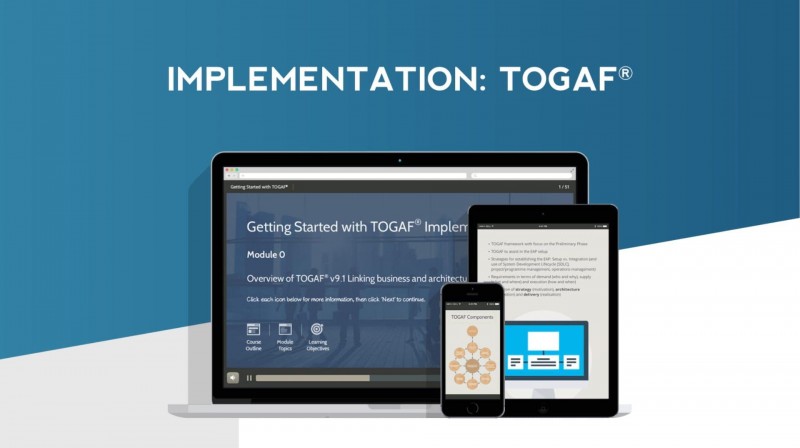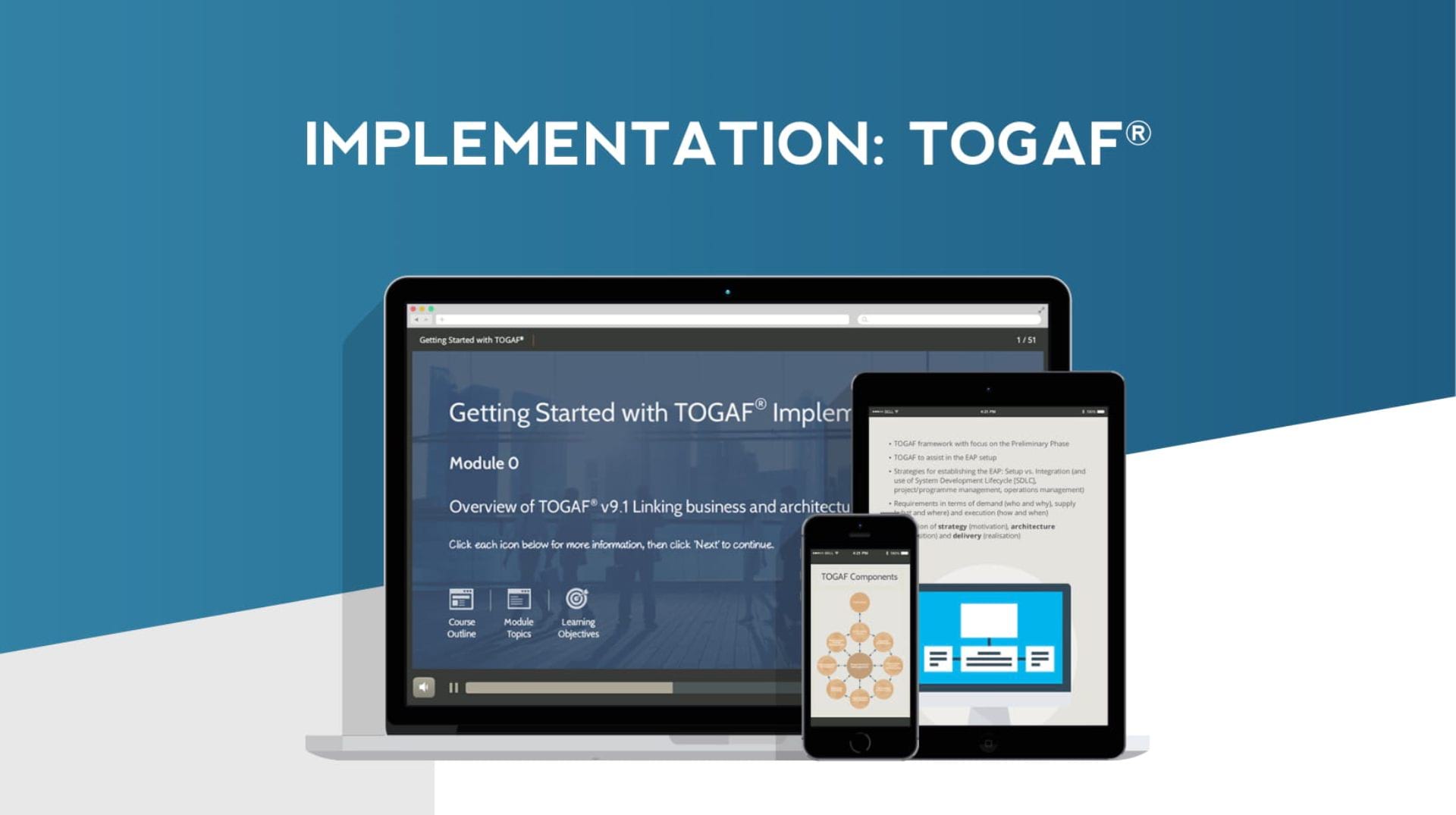 TOGAF edukacija i certifikacija
Implementing TOGAF 9.2…Getting Started
Key information about this course:
Price: 619€ + VAT
24 hours of course material included
Includes candidate exercises and submission for tutor review
Includes 24/7 tutor support
Instant 12 months access – start today!
Set up an effective EA Practice
This course is about getting started with an Enterprise Architecture Practice, and in particular it's about what should be considered when you're looking to establish or improve your Enterprise Architecture Practice.
Enterprise Architecture is a discipline that consists of many areas, approaches, guidelines and techniques and there are a number of well-known framework available for example TOGAF® (Open Group), NAF (NATO), FEAF (US Federal CIO Council) etc.
One of the major challenges with Enterprise Architecture frameworks is 'how to implement' or even more importantly 'how to start'.
This course provides a 'how to start' regarding getting your Enterprise Architecture Practice established (or potentially improved if you already have one).
This course will provide you with an insight and enough detail to integrate directly into your practice incrementally because the module provides information and guidance on allied but distinct areas.
Some prior knowledge of architecture is expected although not required.
Course Overview:
This course covers the more important aspects of getting your Enterprise Architecture Practice established from recognizing that most candidates will have some background knowledge of Enterprise Architecture or may even be TOGAF Certified.
With this is mind, we recognize the value that TOGAF brings to the discipline and we provide a brief overview to set the scene.
From there the course takes a route through important subject areas and disciplines that must be considered for adoption and integration to establish a functional Enterprise Architecture Practice.
Save
Why should you take this course?
Candidates of this course will be exposed to most of the challenges faced when setting up an Enterprise Architecture Practice.
It provides the background and exposure to some well-known subjects that are often glossed over by the other well-known Enterprise Architecture frameworks. The areas covered have been contributed by practitioners on the ground doing this kind to work. It also includes some areas that are useful to know and use but which are not standard run-of-the-mill Enterprise Architecture techniques.
Integration is positioned against implementation as an approach that requires consideration of your existing organization, culture, strategy, skills, structures and tools so that you can make informed choices about how to begin rather than implementing blindly from a standard.
The Enterprise Architecture Practice is presented from different perspectives such as architecture demand and supply, the interactions of strategy, and architecture and delivery with some considerable focus on the operating and engagement model approaches that should be integral to the Enterprise Architecture Practice to be effective.
Other areas that are immediately useful to the Enterprise Architecture are the capability assessment and looking at how the Enterprise Architecture Practice delivers to the organization by defining Enterprise Architecture capabilities and the services necessary to actually deliver.
Standards and principles are considered in depth as a core part of the effective Enterprise Architecture Practice with a number of processes and approaches discussed that can be utilized immediately in your Enterprise Architecture Practice.
Lastly the course addresses an important area that is often just assumed effective that of communications strategy and execution and the construction of an Enterprise Architecture charter which can be used to establish the position and authority of the Enterprise Architecture Practice.
Save